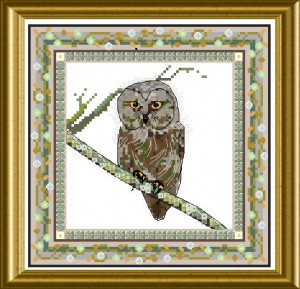 This is No. 6 in a series of colorful birds throughout Europe and US – always in combination with a piece of nature and an elaborate frame.
Here you stitch a Tiny Owl – depending on the background color, it can really sit there "at night"…
The frame incorporates special Stitches, beads, and lots of various materials, silk perles, braids etc. The bird itself is carefully shaded and uses mostly DMC cottons.
The size of the mere embroidery is 95 x 95 stitches, which makes for a small but not less intricate stitching project in typical Châtelaine ways…