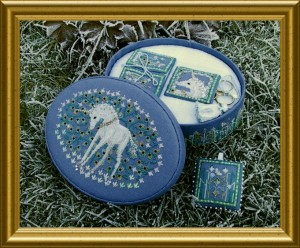 This dreamy piece is a fairytale come true – a beautiful Unicorn inmidst a meadow full of flowers!
Lots of beads and Special Stitches make it a lovely and entertaining embroidery – and have tactile interest later,
once it is finished.
There are the box top design and the banding for the bottom part – and designs for a needlebook, a pincushion
and a scissors' sheath.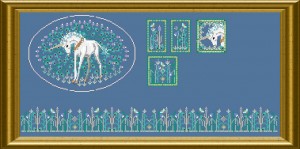 You purchase the design only – all finishing is up to you.
Materials List: chat037materials
Instructions for exactly this finishing can be bought here – or you can just take the main theme, the box top – and finish it for a cushion, framed picture, or insert in a readily bought box.