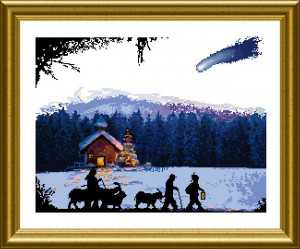 This scene of a walk in deep night depicts a group of
shepherds walking through a snowy landscape in front
of forests and mountains. At the sky you can see a comet,
perhaps the star which proclaims Christ's birth.
One house is lit in all this darkness and together with
the tiny lantern of the leader it casts a gentle warm
glow onto the crisp snow.
Design size = 259 x 199 stitches
Depending on the color of your background fabric,
this design has different moods… it may be midnight or early morning. One of few Châtelaine Designs which does not have Special Stitches incorporated….
Kits of the materials can be purchased at ECC