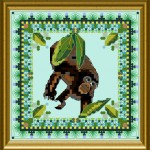 This cutie can be stitched all of it's own as a pretty little design with a jungle feel… Many nice Special Stitches give you a taste of "Châtelaine" on a small project.
Threads used are the same as in the main Design ONL 157 – "The Rainforest Mandala" !
The stitchers of this larger design can use the little monkey – minus the ornamental border ! – as an insert in place of the right upper side snake…..
This was once a "freebie", but is momentary retired.