Choose the color of your fabric
Please note that this are not genuine fabric colors of any manufactuer. The colors have been hand-chosen by me, as they represent an array of colors which act as a decent, though emphasizing background for my intricate design. I strongly recommend to avoid any bold colored and/or mottled so-called "hand dyed" fabrics. Your months-long work on details and specialitles will be lost in any agitated background.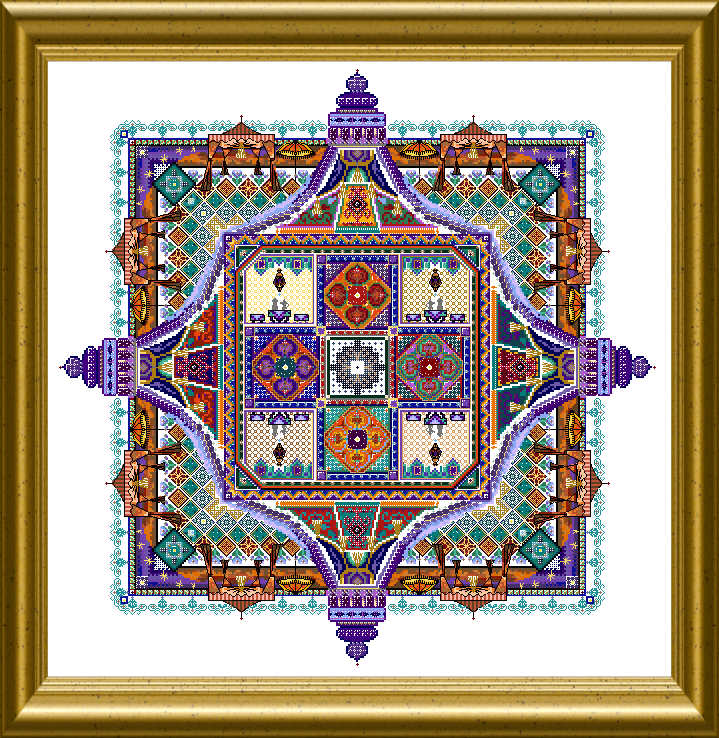 This design is the  Big Mystery 19 ( Night Desert Tent Mandala) – which started as a "Mystery" on January 1st 2017. It came in 12 parts – one per month. If you sign up later during the year, the mystery effect won't be that large-depending on the amount of already published parts…
Additonally I revived the "tradition" of a tiny "try-out" design for this Mystery in which you will use tiny amounts of the silks, braids and beads. No DMC, no  crystals. But with this small design you can dabble a bit with your acquired stash for this project and get a feeling for the colors and the overall looks.
This is NOT a freebie ! So please do not share it with friends… it is my gift to the subscribers of this embroidery project during 2017 and will after end of this  be available for sale for a small amount.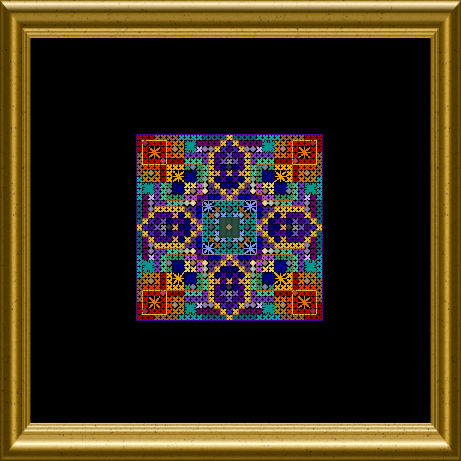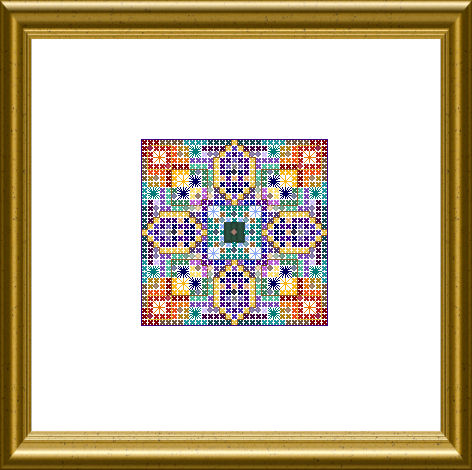 To get your inner cinema running:
Let me just tell you a bit – imagine deep night in a desert. A Bedouin princess was invited out for a night meal with candles and lanterns in , well, most probably some Bedouin prince's tent. He offers her all luxury of carpets, bolsters and curtains of richest fabrics,  nice little cushions everywhere, all patterened in the age-old patterns of the desert tribes.You will stitch rich brocades and soft silks, all with your threads and cross stitch as well as Special Stitches….
Tiles of ceramics are laid out and patterns of gold overlay the rich velvets of the tent's sides….
Tiny tables stand beneath flickering lanterns, offer hot coffee and tea in polished silver pitchers. all is blinking, and sparkling and the stars shine over the scenery. In the far you can see the swinging hills of the desert sands…..
All will come in my trademark "shape" of a Mandala – the caleidoscopic arrangement of intricate details which develop into an ornamental picture when seen from more distance !
The color range will be of deep blues, purples and teals with hints of yellow and orange, gold and green. Lots of beads and crystals will add sparkle. And Special Stitches give structure to the piece as well as different kinds of stitching threads.The base will be cross stitch, and some blackwork, over-one and backstitching are included as well.
The size of the design will be 297 x 297 stitches. I recomend a fabric with 14/28 count, as beads and crystals will be used to shape patterns and this might be too narrow on a higher count fabric.
Link for Materials List: Mystery 19 – Mat List