Choose the color of your fabric
Please note that this are not genuine fabric colors of any manufactuer. The colors have been hand-chosen by me, as they represent an array of colors which act as a decent, though emphasizing background for my intricate design. I strongly recommend to avoid any bold colored and/or mottled so-called "hand dyed" fabrics. Your months-long work on details and specialitles will be lost in any agitated background.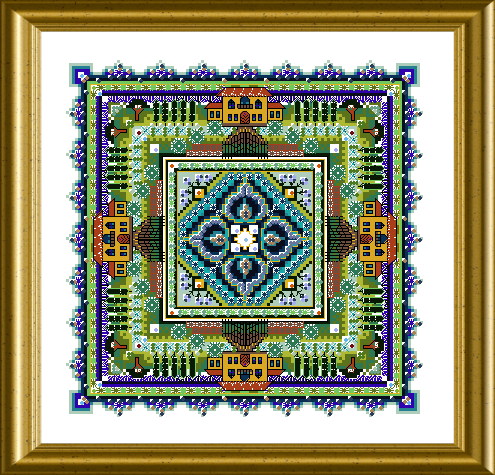 After a long time I decided to create a small "Mini Mandala" again – picking up a theme or elements from the "BIG" ones – and just creating a tiny version of a Mandala – a quick stitch, but nontheless as intricate and filled with detail as the large landscape Mandalas !
You have it all here: Beautiful threads, beads and crystals – used in Cross-Stitch and Special Stitches for a dimensional small embroidery mimicking the warm shades and sun-drenched greens of the Tuscany.
High raising Cypressus trees and typical Pine trees grow on the distance – and nearby you find a Tuscany cottage, thatched with these terracotta tiles which have already been used by the Romans.
In the garden center is a beautiful pond, filled with cool water…. and around you find bushes and flowers galore.
Stitch this sunny piece on a dark Winter's day 🙂 as a remedy against the "Blues"…
This will be the perfect piece to try out the typical "Châtelaine" style – after stitching this one you will surely be confident to try your needle and hands on a larger Mandala or an other design !
The mere design size is 119 x 119 stitches.
Materials List: Onl 203 – Mat List