Choose the color of your fabric
Please note that this are not genuine fabric colors of any manufactuer. The colors have been hand-chosen by me, as they represent an array of colors which act as a decent, though emphasizing background for my intricate design. I strongly recommend to avoid any bold colored and/or mottled so-called "hand dyed" fabrics. Your months-long work on details and specialitles will be lost in any agitated background.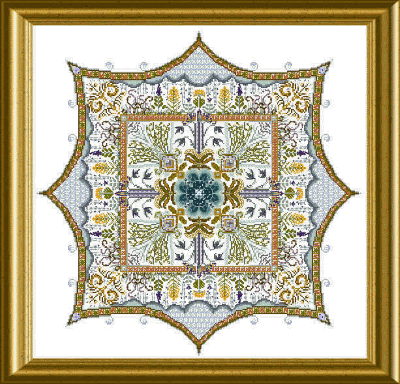 This is a brand new series of very intricate and detailed designs!
It will be four alltogether – we start with these Autumn days full of droplets, when the remaining herbs and grasses bend down with rain and the entire world is just soaking.
These new designs will have a medium size and feature only very few of the expensive silks and special threads. Mostly DMC and even giving conversions for the costly silks, this is an affordable piece which nonetheless has the full package of "Châtelaine" in it ! You can easily stitch it in "all DMC" without loosing the special effects totally – too much is dependent on the design and your embroidery work here !
You will use lots of beads and crystals – excercise Special Stitches and French Knots, stitch Blackwork patterns, and yes, of course – Cross Stitches too !
If you rather won't use the crystals, you can substitute them by putting 4×4 threads Algerian Eyelets in a sparkly thread of your choice…by this you could even finish this design as a pillow cover without piercing your cheeks when cuddling  with it….
The mere design size of this piece is 249 x 249 stitches.
You can see a Materials List already here without purchase: Onl 189 – Mat List