Cordoba Patio Mandala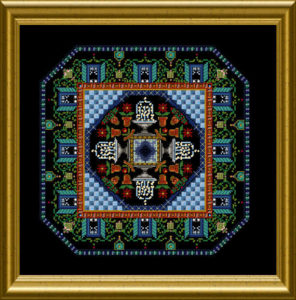 Please note: There are no further instructions for this design. You can get help as usual in the Châtelaine Support Group on facebook. https://www.facebook.com/groups/chatelainesupportgroup/
This is a medium-sized (135×135) design of a Cordoba Patio. If you google this term, you will see what I mean 🙂 – bright blues, terracotta colors and over all the lush greens and reds of potted plants.
Tiles on the ground, shutters half closed to keep the bright sun out and windows with white curtains swinging in the wind…. Have some Summer feelings when stitching this lovely and intricate design during the Winter months. Tons of specialty stitches, use of variegated threads, beads and crystals. YOU choose if to use Tila Beads for the "patio" floor, or cross stitches or the proposed Rhodes…!
This "special facebook supportgroup thank you" Freebie ( with a vaucher) will be available until Valentine's Day (02-14-2018, 23:59 German Time) and from then purchasable for a small fee.