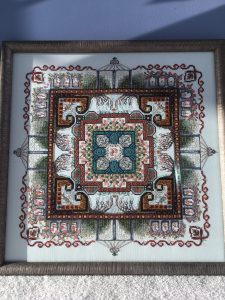 This was Mystery VI at it's online time in 2006 – and later it was republished in one batch. You will not receive the 12 parts here, but each chart in enlargeable PDFs and detailed instructions and diagrams.
Many Special Stitches make the embroidering entertaining – the use of a variety of threads and braids adds texture and dimension. You will embellish with beads and crystals – and you can personalize if you wish – with the provided alphabet.
The mood of later Summer days is captured in colors and motives – ripe fruit and first falling leaves hang on the trees, and spider webs are visible with tiny dewdrops…..
The mere design size is 272 x 272 stitches
Materials List: CHAT 040 – materials list