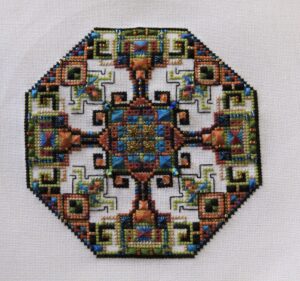 This is the third of a series of 6 single designs, which can be used as "exercise" for the named Special Stitch – but as well just as a beautiful filigree stitching piece in its own rights.
You will explore the named stitch, use a variation of threads, silks, braids, and embellish with beads and many precious crystals.
With their smaller size, these designs are an entertaining project between larger tasks!
Stitched by Jerri Jimenez
The mere stitch count is 75 x  75 stitches.
Materials List: MAT WS 03
The first four Workshop designs are also available as a Bundle with more than a 20% discount – have a look!