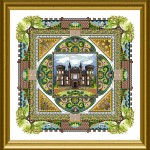 This design features the German Castle Moyland, which is surrounded by a traditional moat. Here you stitch it in the typical Chatelaine Mandala shape: you have the formal gardens with flowers, Swans and ducks in the moat, bridges over Waterlilies…
Many different threads, beads and crystals make the stitching entertaining – you will use cross stitch and well-explained Special Stitches too.
The mere design size is 243 x 243 stitches.
Here you see some pictures of a "WIP" (Work in progress….) to give you an idea of the "real" look :