This design was a 24 parts, two years project, when it was online – and as there is a lot "over one" and other detailed work, together with Special Stitches and Backstitching, it is really an intricate and large project.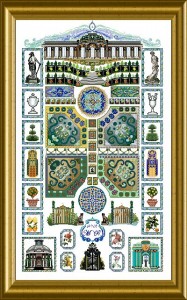 "Sanssouci" is the castle which was built by the German King Friedrich II. It is a touristic attraction today and worth a visit. The two dogs are pictures of the stone monuments Friedrich II had made for his favorite dogs.
You find the beautiful scrolled iron gates as well as the gazeno and the verdigris pavillon – topiaries and stone urns and vases. On top you see the king's statue and one of the elegant, greek-style ladies in the park. A pond can be embroidered as well as various formal gardens and the terraces of Sanssouci with their cut trees and special gates….
Here you now can stitch elements of it's beauty in cross stitch and other embroidery, using DMC, silks, beads and crystals.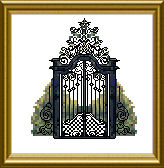 The mere design size is 301 x 539 stitches
Take a closer look at the Materials Onl 100.
Kits of the materials can be purchased at ECC