This was a Mystery in 2014 – the theme was Nymphs in their forest…
You stitch a dreamy picture of airy, translucent, and barely visible Nymphs, dancing in the shade under large leaves. The Nymphs are worked over one and highlighted with backstitching and beads. You see Waterlilies in the corners, a pond in the center.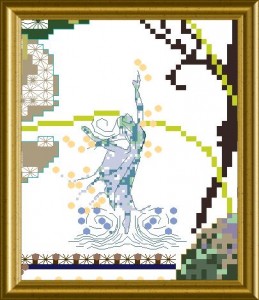 "Dancing" trees form a frame for the plants, leaves, and beings in the woods.
The mere design size for this piece is 369 x 369 stitches, you will need to add the amount of free fabric you will use for your personal idea of finishing.
Many different brands, materials, and structures of thread are used, together with beads and crystals. All together with the Special Stitches, you will embroider a tactile design with lots of intricacies.
You can check the material list here.