With this lovely design, you can not only stitch a beautiful Japanese landscape but as well create a "usable" toy to store jewelry, sweets, or stitching supplies!
You can see on the screenshot panel, which elements are used: The single panels for the landscape …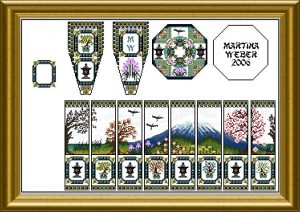 which can not only be worked for the box but as well as bookmarks or even close together as one solid piece of Japanese landscape!
Two round shapes to cover lid and bottom
Scissors' sheath and a tiny fob to attach for finding your scissors in your stitching bag and to put in the occasional needle, when you need a pause from stitching…
Materials List:
Finishing instructions are not included, they are up to you. Accurate stitch counts of the single items are in your chart instructions, so you can purchase the correct amount of fabric.