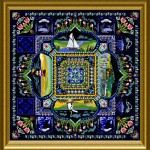 Bright and beautiful landscapes are the trademark of this country at the North Sea coast – windmills, tulips, and the famous blue-white of tiles painted in Delft….
You can now stitch this pretty and bright design and bring home some memories (?) or dreams of Holland (Netherlands)
Many different threads, beads and crystals embellish this design together with cross stitch and well explained Special Stitches.
The mere design size is 347 x 347 stitches