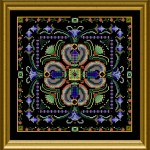 This beaded image of an ancient Egypt Scarab was initiated by looking at the artefacts from King Tut's treasures – the beautiful antique things out of reach for all, but sort of an "inspired" replica stitch-able with threads and beads …….
The size of the entire tile is 129  x 129 stitches – you will need to add free fabric to your likings.
Materials List: Onl 161 – Materials List
Lots of beautiful and shimmeringn beads will be used, as well as some stunning and effective special threads.