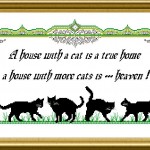 These are the four kitties you already know from the Halloween Mandala – but without the "Halloween-y" stuff. Just cats. Adorned with a lovely frame and with enough space for the saying provided – or your own. Or their names – whatever you prefer. An alphabet "over one " is provided for personalization.
The mere design size is 201 x 117 stitches.
You will use a few beautiful green and variegated silks, some beads, a braid and crystals to make it sparkle like cats' eyes in the dark !
Materials List: Onl 165 -Materials