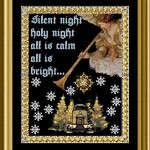 This is a design which takes the old-world Christmas mood into a stitchable piece ! Quoting one of the most beautiful Christmas carols, the Angel with his golden trombone proclaims the merry message… the notes just flow from the trombone's opening.
A deep Winter chapel is lit, and the golden rays of light sparkle and reflect in the snow.
Flakes ( or are they small stars?) twinkle all around and one large star is embellished with many beads and crystals.
You are provided with charts for this world-famous song in English and German, each in "over one" and "over two".
And extra chart gives you the option to stitch the Angel's delicate face in over-one as well.
A decorative and elaborate border with lots of Special Stitches pulls it all together to one baroque Christmas picture.
You will use normal cross stitches, well explained Special Stitches and lots of interesting threads, beads and crystals.
The mere design size is 235 x 299 stitches.
Materials List: Onl 167 – Materials List