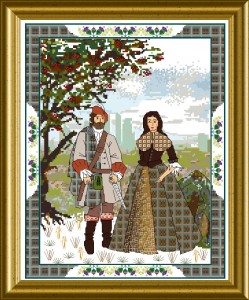 With all the movies and books on history, happenings and lovers in Scotland I was inspired to create this tapestry-like, tartan-bordered design. This is the version with the Lady in 18th century rustic Tartan dress with wollen wrap. Lots of special stitches and beads give the dimensional effect to her wrap and woven skirt – the man is dressed  in breeches, a tartan throw …
You can choose between a "young" and "old" face for him ( with beard or without)
Both stand aside a Rowan tree, in front of the stones of Craig na Dun…..which are only slightly visible through the foggy air.
If you choose to stitch the wording you can leave out one set of thistles in the  bottom frame – it is "over one" for detail and crispness. If you rather only stitch initials and/or dates – an alphabet is provided. This design does not include the medaillon in the "sky" as it is pictured in the "A" version !
The mere design size is 146 x 186 stitches
Materials List: Onl 172-b- Mat List
There is a close sibling, if not a twin to this design here – it is ONL 172 "A" – with her in an elegant period evening gown,  look here to compare:
You can even purchase both designs in one BUNDLE with a huge saving compared to the single purchase….