There is indeed a real Poison Garden in this world – it is situated in Alnwick in the UK. Spooky and somber it cultivates all or at least many of the most poisonous plants in the world. I was very intrigued when I saw this (online) and made myself a note…
Choose the color of your fabric
Please note that this are not genuine fabric colors of any manufactuer. The colors have been hand-chosen by me, as they represent an array of colors which act as a decent, though emphasizing background for my intricate design. I strongly recommend to avoid any bold colored and/or mottled so-called "hand dyed" fabrics. Your months-long work on details and specialitles will be lost in any agitated background.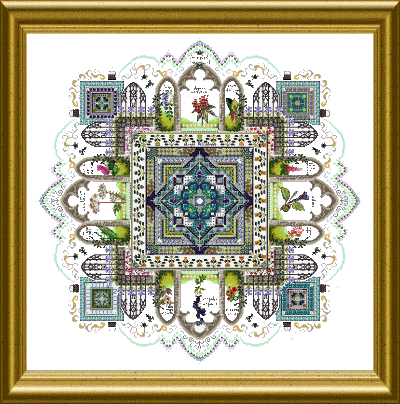 There is indeed a real Poison Garden in this world – it is situated in Alnwick in the UK. Spooky and somber it cultivates all or at least many of the most poisonous plants in the world. I was very intrigued when I saw this (online) and made myself a note…
Each arch contains a poisonous plant – so 12 in total with their botanical names backstitched in Latin.
There are lots of details in the entire design – and lots of Special Stitches too. Tiny over-one parts, not too large, no worries! Use of various threads, weights, fibers… beads, crystals, and such stuff.
The overall size will be 348 x 348 stitches – so it fits into the range of the other gardens like Herbarium, Rosarium, Tinctorium, Pomarium…
Here you can download the Materials List prior to purchase: Onl 177 Mat List