Choose the color of your fabric
Please note that this are not genuine fabric colors of any manufactuer. The colors have been hand-chosen by me, as they represent an array of colors which act as a decent, though emphasizing background for my intricate design. I strongly recommend to avoid any bold colored and/or mottled so-called "hand dyed" fabrics. Your months-long work on details and specialitles will be lost in any agitated background.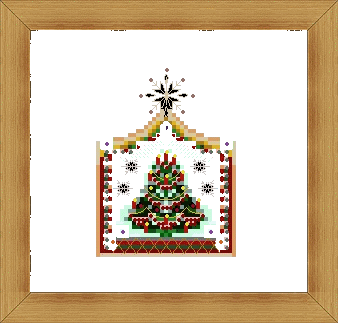 This small design was a limited time Freebie – it was available for some time and then retired and is for sale for a small fee only.
As it is only 35 x 47 stitches in size you can work it in short time. The materials include the silken threads, which are used for the Christmas Mandala Mystery (ONL 211) too, but of course behind the "/" there are the DMC conversions, if possible. Stitch it up with any materials you have !
Add beads and sparklies and finish it off as a tree hanger….