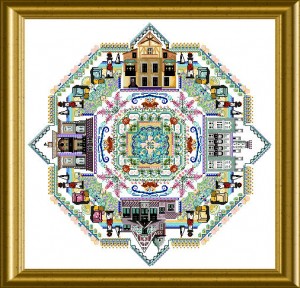 This Mandala gives you the opportunity to stitch a piece of "Sea-Life" – not octopuses and dolphins this times – but the typical architecture of the Baltic Sea cost – mostly built in the late 19th century, when the leisure time of bathing was "found" and it was en vogue to spend Summer days at the seaside.
It still is… and with this embroidery, I tried to capture the feelings of lazy days, of flora in the sandy grounds, of landmarks and pretty guest houses.
The mere stitch count is 411 x 411 stitches.
You will use many different threads, sparkling and matte, silk and cotton plus beads and crystals to create this embroidery. Additionally, to the basic cross stitches, there are some Special Stitches, which will give texture, dimension and are entertaining to work. All will be well explained by diagrams!