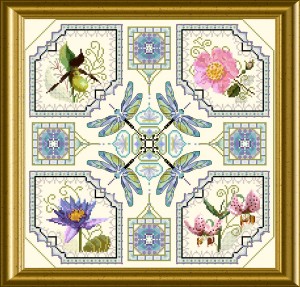 This design is a design on it's own – but as well it is an addition for the OCF – ONL 032 – The Flower Fairy Garden. If you do not like the Fairies …. just purchase this design and replace the "persons" with flowers.
See the examples here, where the mere flower corners were inserted into the lacy frame of ONL 032:
Many shades of floss are used, variegated silks, braids and beads together with sparkling crystals — the cross stitch is the base which is highlighted with different Special Stitches to create this colorful piece. The dragonflies in the center will look beautiful if used as a single motiv…
The mere design size is 204 x 204 stitches.