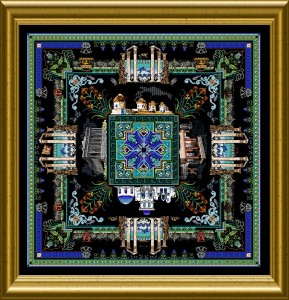 With all the cultural artefacts, Greece surely is a country which has much to display. Landscapes, cities, museums – I had to contain myself to be able to put only a fractal of all these beauties into this Mandala !
Once finished, you will see the caleidoscopic view from far away, resembling of a glazed tile – and the intricacy of stitches and motives will get visible once you go nearer – and whilst stitching, of course !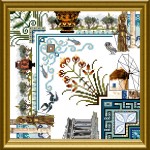 Many beautiful different threads, silks, cottons and metallics are used, beads and crystals to highlight the embroidery. You will stitch some Special Stitches, all well explained with enlargeable diagrams.
The mere design size is 351 x 351 stitches