Choose the color of your fabric
Please note that this are not genuine fabric colors of any manufactuer. The colors have been hand-chosen by me, as they represent an array of colors which act as a decent, though emphasizing background for my intricate design. I strongly recommend to avoid any bold colored and/or mottled so-called "hand dyed" fabrics. Your months-long work on details and specialitles will be lost in any agitated background.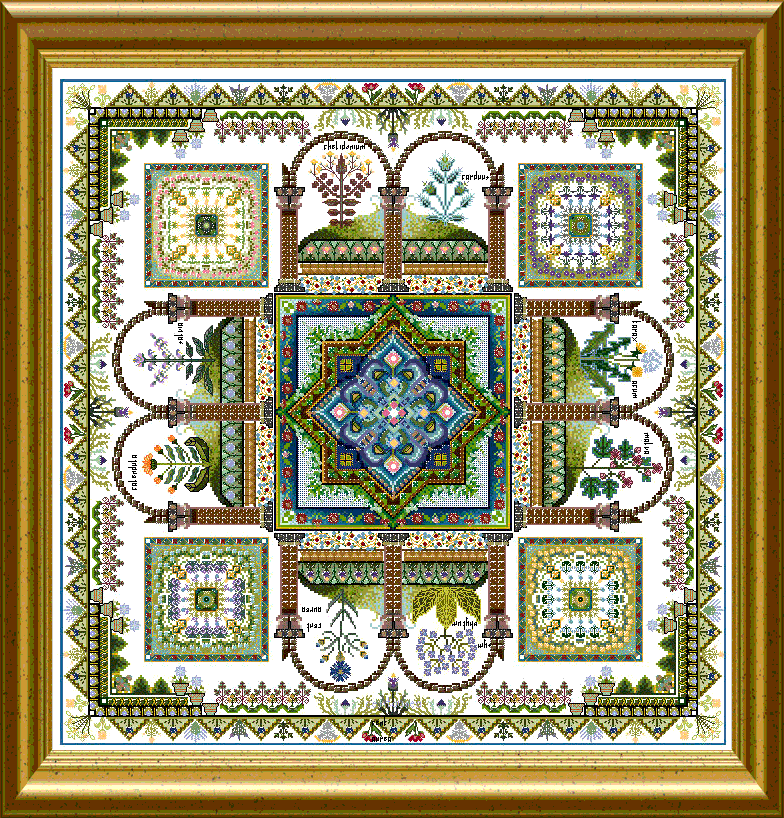 This is the first of a more or less series of Medieval gardens, which often had to be useful and were planted to serve a certain purpose – like this one: It features herbs for the kitchen and, even more, healing.
The average herb – and there were many, which are still in use today, or again in use ! was used to make meals tastier, as salt was rare and expensive, Thyme, for example, was used to conserve raw meat and hinder it to rot.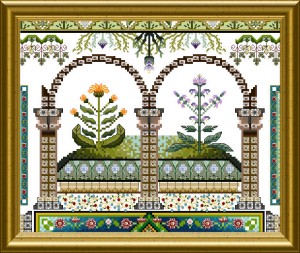 Many of the tasty herbs were remedies as well – Peppermint was lovely in salads, but as well healed a sick stomach and nausea during pregnancy. And so on. Of course, you will use an array of pretty and vivid colors, in cotton and silk, like floss and perle, braid and metallic… together with beads and crystals for a rich and tactile look.
Many Herbularia were planted in or close to convents because monks and nuns had the knowledge to use them, brew delicate liquors or mix tisanes and concoctions for sick people. Besides the healing ingredients, many of these plants feature beautiful blooms, so they had a place to be seen, tasted and smelled.
The mere design size is 333 x 333 stitches. You can check the material here.