Choose the color of your fabric
Please note that this are not genuine fabric colors of any manufactuer. The colors have been hand-chosen by me, as they represent an array of colors which act as a decent, though emphasizing background for my intricate design. I strongly recommend to avoid any bold colored and/or mottled so-called "hand dyed" fabrics. Your months-long work on details and specialitles will be lost in any agitated background.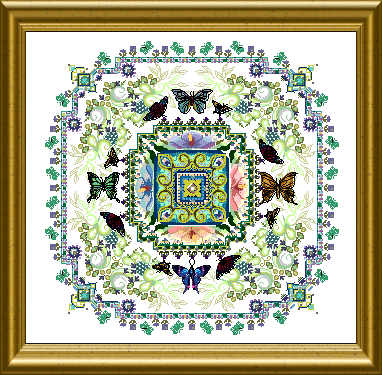 Now this one is really something for lovers of color, sparkle and detail ! Beautiful butterflies can be stitched over one for extreme detail and shading, or over two, for an easier task to the eyes. A sparkling lace is the background for the eyecatching insects which fly around the center pond, where stylisized flowers add color and shape.
You will use beautiful variegated silks, cotton floss, perles and braids, metallics, beads and crystals to make this embroidery a genuine piece of (your stitching) art !
Blackwork parts, Special Stitches and lovelyl backstitched elements will add to the overal lacy look of this design.
The mere design size is 293 x 293 stitches
You can download a Materials List here prior to purchase: Onl 79 Mat List