Stitch a trip in the South Seas for yourself !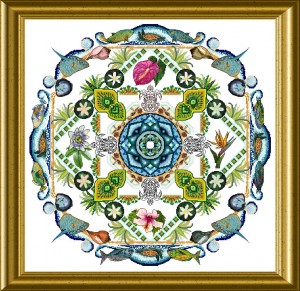 Here you see a Mandala with the theme of the islands ofTahiti:
It's flowers and seascapes, animals and shells…..
Filled with the lush flora of this island you recreate some of the tropic flowers and greens.
Together with the base of cross stitch and  over-one stitches, you work many Special Stitches,all well explained by enlargeable diagrams.
Various threads, beads and crystals make this a tactile pleasure !
The mere size of the design is 357 x 357 stitches.
Kits of the materials can be purchased at ECC