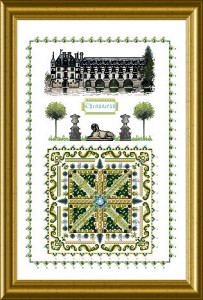 This piece pictures one of the famous castles of the Loire: Chenonceau.
Beautifully situated right above the Loire river, this castle has a vast and long history
of glamour and treason — all you can imagine !
Famous it is not only for the architecture, but as well for the rose garden, which you can
stitch with threads and beads and so recreate this little wonder.
The size of this design is 232 x 358 stitches.
Kits of the materials can be purchased at ECC