Choose the color of your fabric
Please note that this are not genuine fabric colors of any manufactuer. The colors have been hand-chosen by me, as they represent an array of colors which act as a decent, though emphasizing background for my intricate design. I strongly recommend to avoid any bold colored and/or mottled so-called "hand dyed" fabrics. Your months-long work on details and specialitles will be lost in any agitated background.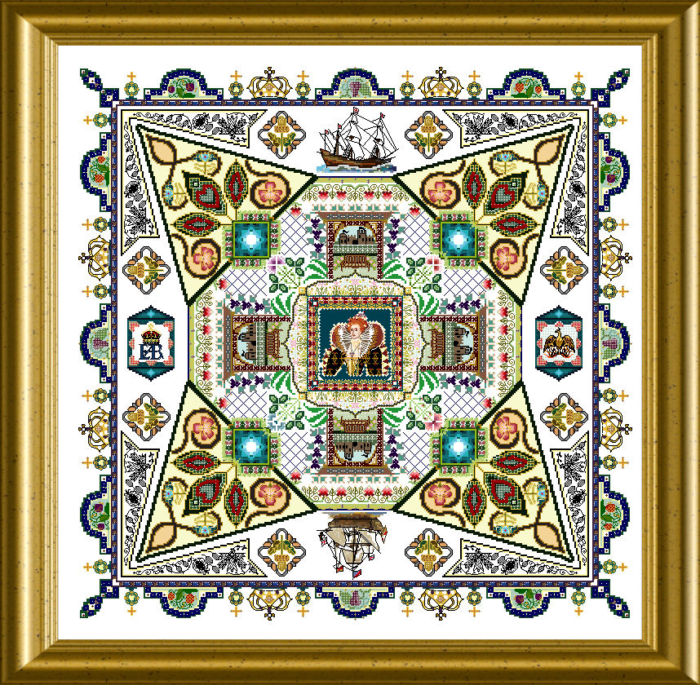 This was one of Martina Rosenberg's last designs and when she passed in December 2017 the design was left unfinished. With the kind help of the Châtelaine Community, all information needed could be collected, and by now, you will receive a complete design with easy-to-follow instructions and diagrams for specialty stitches!
To make stitching through the rich range of symbols and stitches a bit easier, this design comes with some help, all included in the one file you get after purchase:
Version 1: All stitches in color, backstitch as complete lines, beads as colored dots
Suitable for general cross-stitch, special stitches, and backstitch
Version 2: All stitches in b/w, backstitch as complete lines, beads as black dots
Suitable for general cross-stitch if you prefer seeing colors as symbols
Version 3: All stitches in color, no backstitch, beads as colored symbols
Suitable for beading
Version 4: All stitches in b/w, no backstitch, beads as b/w symbols
Suitable for beading if you prefer seeing colors as symbols
You can check the Materials here!
---
Martina Rosenberg's original Text:
Please note, that this is a very first preview only now! Showcasing the first layouts and ideas.
This will be a Mandala (of course..) of a garden from the times of Queen Elizabeth I. She is the Phoenix you see in the very center of the pond! Inspired by a wonderful gold embroidery on one of her rich garments.
Whilst doing research on Elizabethan times I was so intrigued by the patterns and motives of her regal dresses, all embroidered, gilt, jeweled, and encrusted with genuine pearls and sequins of gold, that my fingers itched to create a garden in this manner.
So this will be a real challenge piece, when ready:
Lots and I mean lots ! of Special Stitches, over one detail and dimensional, partially raised embroidery.
Lots and lots of beads, crystals, and Tila Beads too. Look for a strand of genuine Freshwater Pearls, nicely rounded – they will be used in this design as well. If you like. If not, I will give you a Special Stitch in cream silk instead 🙂
There will be typically designed plants and flowers, all different in the finished piece. Animals will be added as they were seen and interpreted in these times. Tiny details will give you fun whilst stitching – wait and see.
10There is a lot for me to do with this design still – and I can not yet tell you a publication date. It will be ready when it will be ready 😉
The approximate size will be 349 x 349 stitches. I will recommend a 28 count fabric due to the over-one parts.
And it will use tons of crystals and bling too!