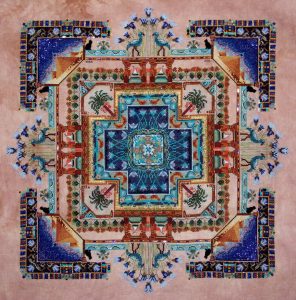 Here you have a design which displays views of Egypt together with symbols of Pharaonic times – all in moody colors of desert and water, sunset and lush gardens.
You will not only stitch cross stitch but as well Special Stitches which are well explained in diagrams! Lots of beads, sparklies, silks and metallic braids add to the interest of this piece.
The mere design size is 308 x 308 stitches.
Check the Materials List here.