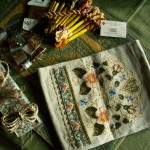 In Elisabethan times a "Sweete Bag" was something everybody carried around. Filled with fragrant herbs and potpourris, these elaborately embroidered pouches  helped to cover the smell of too rare baths… hence the name "sweete" bag. Today you can give it a different use 🙂 and display the beautiful design as a pouch for a hankerchief or the mere necessities of a woman.
This design was once a special to celebrate my 10 years anniversary in 2007. For this time a certain number of "embellishing packs" was available – containing the pictured ribbon and pearls etc.
These packs are not longer available – sorry. I am sure though, that you will be able to find ribbon and sew-on treasures to make this pouch your very own ! Just think of a piece of vintage lace – some pearls from a broken jewellery…special MOP buttons…
Materials used are cotton and silk, beads and pearls and metallic braids. You will work cross stitches over two and a bit "over one" as well, and well explained Special Stitches.
The stitched area of the pouch measures 109 x 112 stitches – you will need to add free fabric for sewing the seams, to make the top with a drawstring tunnel and to have a "bottom" with lace or ribbon sewn on..