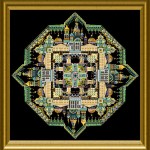 The mystical "White Nights" are celebrated in St. Petersburg – the sun does not set and the nights are all bright and light… people go out to party and enjoy.
The beautiful buildings so rich in history shimmer in the nightly "day"-light. I tried in this design to capture the beauty of these pale and light colors together with the architectural features of the famous palaces and buildings.
You can stitch this piece using cotton and silk threads, metallic braids, beads and crystals.
Normal cross stich is embellished by Special Stitches to add texture and dimension.
The mere design size is 411 x 411 stitches.