Choose the color of your fabric
Please note that this are not genuine fabric colors of any manufactuer. The colors have been hand-chosen by me, as they represent an array of colors which act as a decent, though emphasizing background for my intricate design. I strongly recommend to avoid any bold colored and/or mottled so-called "hand dyed" fabrics. Your months-long work on details and specialitles will be lost in any agitated background.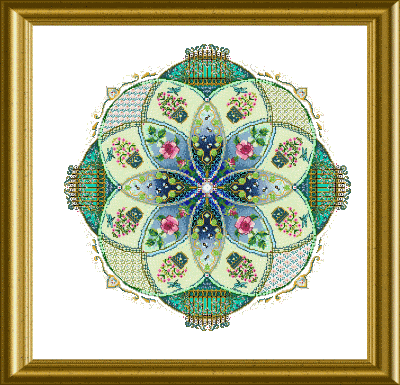 A 2nd design with the A-Mazing Caleidoscope as a base pattern – this time I was influenced by Marie Antoinette colors – my own rose garden at it's height of blooming and the blue Summer skies, filled with insects and buzzers…
All this is pulled together in this intriguing design – which does not only offer cross stitch but as well fillings of Special Stitches to give dimension, beads and beaded design parts and lots of interesting detail. Diverse threads will be used, together with braids, beads and crystals for a very dimensional and tactile stitching experience.
The mere design size is 255 x 255 stitches.
Materials List: Onl 205 – Mat List
With purchase of this big design you will get a small one "for free":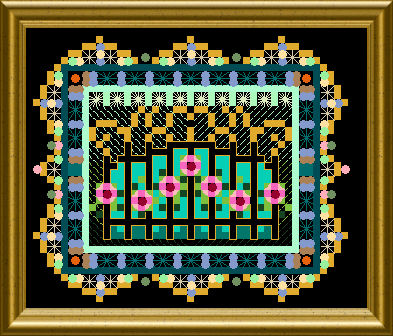 It is only 45 x 38 stitches and uses the same threads as the main piece. So you can dabble a bit, or just use up your leftovers…. Enjoy ! It is _not_ a "freebie", so please do not share it, upload it etc.