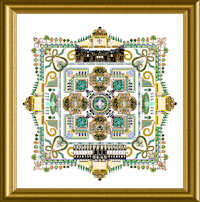 Important note: The Big Mystery XX (20) was one of the last designs, Martina Rosenberg worked on. For this reason, the usual instructions are missing. Also, it is not in 12 parts as announced but comes in one complete part. You can get help as usual in the Châtelaine Support Group on Facebook. 
Update, 27th July 2018: The Chart and Key are repaired now, you find all used material in the key and with fitting symbols which equal those in the chart. The only difference to a usual Châtelaine is now the missing of the written instructions (with explanations about the backstitching and the special stitches etc.). For help on this, please visit the Support Group on Facebook.
This place here is for the coming Big Mystery XX (20) – starting on January 1st, 2018.
And as it is a "Mystery" – you will only see a small thumbnail here… and later monthly updates of the published parts.
Each month brings you one part – 12 parts are made – so after one year you can have finished a really large and complex embroidery.
Once you sign up and pay, after the start of stitching in January 2018, you will find each month a link in your account which allows for the download of the fresh part. If you join later, you find more links… If you join in December 18, you can download all files right away 🙂
The theme is Versailles in all it's splendor.
The Royal Gardens with the orangeries, the exotic plants in huge pots, which are carried inside each winter… The splendid golden gates securing the place in front of the palace.
The beautiful architecture of the palace sides. You will stitch ponds with waterlilies, topiaries, and flowerbeds. Flowers for Marie Antoinette to smell…trimmed and cut plant beds and parterre gardens.
This design will incorporate small portions of "over-one": Monograms of Marie Antoinette and her husband Louis XVI.
You will have plenty of Special Stitches, Backstitching, Beads, and Crystals – it will sparkle with these and metallic threads. We will use luscious silks, solid and variegated and differently textured threads as well.
A color scheme of golds, yellows, various greens and deepwater teals together with royal velvety purples and lilacs will make for an unusual mix of shades which generates a very striking picture on any color background.
Much entertainment and no boredom through the 12 months of stitching this rich and splendid piece!
The mere design size is 381 x 381 stitches.
You can download a Materials List here: Mystery 20 – 2018 – Mat List corr

The pictures you see here are small thumbnails to give you a "taste".
Only IF !!! you wish to see more detail, it is recommended to click on them for a larger view. If you prefer to have this stay a Mystery – just ignore the clicking option!