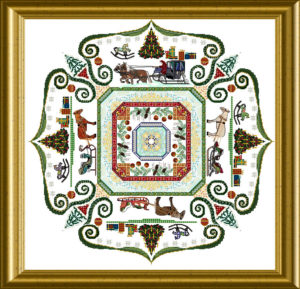 Important note: The Châtelaine Christmas Mandala Mystery was one of the last designs, Martina Rosenberg worked on. For this reason, the usual instructions are missing. Also, it is not in 12 parts as announced but comes in one complete part. You can get help as usual in the Châtelaine Support Group on Facebook.
Update, 27th July 2018: The Chart and Key are repaired now, you find all used material in the key and with fitting symbols which equal those in the chart. The only difference to a usual Châtelaine is now the missing of the written instructions (with explanations about the backstitching and the special stitches etc.). For help on this, please visit the Support Group on Facebook.
This is something new. Not happened before ;-)…
The first Châtelaine Christmas MANDALA Mystery ever!
You can sign up unseen, just enjoying the suspense and clinging to the hints and morsels I make known publicly or you can join in all time through 2018 still, once you can seee the first bits and parts beeing published.
This Christmas Mystery will have 12 parts – one for each month!
It will start on December 1st, 2017 and end in November 2018 – so with a little luck and busily stitching, you may have finished the embroidery ready in time for the Holiday in next year!
Each month brings you a part – 12 parts are made – so after one year you can have finished a really large and complex embroidery.
Once you sign up and pay, after the start of stitching you will find each month a link in your account which allows for the download of the fresh part. If you join later, you find more links… If you join on November 18, you can download all files right away 🙂
So much I will unveil:
It will be a BIG Mystery. Size 365 x 365 stitches, mere design size. Plan for a nice addition of fabric to hold and frame!
It will feature Christmas themes, symbols and topics, without being explicitely christian, it celebrates this Holiday, so will perhaps not be fit for somebody with a different religion.
The color scheme will be classic: Red Green Gold Silver White. With a bit of fur colors here and there 😉 But the main colors are the traditional Xmas colors in all their glory.
We will use a variety of different threads, cotton, silk, metallic.
There will be beads, crystals, tiles and ?? to sew on and make this a sparkly, splendid festive design to adorn your home in the most festive of seasons.
You will have a little hand full of Christmas Spirit throughout the year….
Here is a small thumbnail for you to get "appetite" – click on it for a tad larger view 🙂
If you purchase this design/project, you will receive a free small "test" design of a Christmas Tree to enjoy. Most of the threads used in the large design will be used in the small one too! This offer is only valid throughout the runtime of the Mystery. After this time, the small will be only available for sale and no longer be part of this "package"!
Here you can download the Materials List : Onl 211 – Mat List