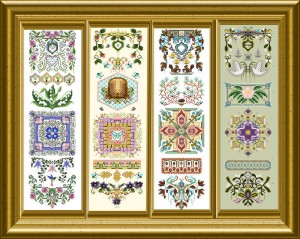 These four designs were early Mysteries, later republished and printed – and now they are back here on my website in PDFs.
You can of course stitch each single –  pick out the one you love most – but you can as well use them as seasonal embroidery – be it in 4 band samplers, with hardware on top – or 4 designs side-by-side on one large piece of fabric.
You can also get all four designs in a bundle and save 20% compared to purchasing the designs individually!
OCF – CHAT 020 – Myst I – Summer Afternoon
OCF – CHAT 025 – Myst III – Winter's Eve
OCF – CHAT 036 – Myst V – Spring Morning
OCF – CHAT 041 – Myst  VII – Autumn Dusk
For the Material List please look at the single designs pages.