Choose the color of your fabric
Please note that this are not genuine fabric colors of any manufactuer. The colors have been hand-chosen by me, as they represent an array of colors which act as a decent, though emphasizing background for my intricate design. I strongly recommend to avoid any bold colored and/or mottled so-called "hand dyed" fabrics. Your months-long work on details and specialitles will be lost in any agitated background.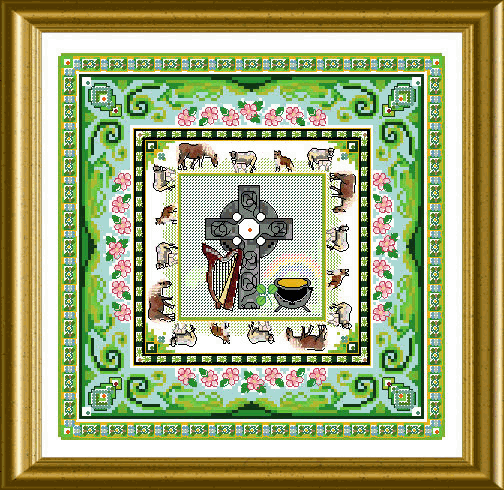 This is a small addition to the Irish themed designs which were previously published. It has some of the typicall motives like Irish roses, clover, the celtic crosses – a Pot-of-Gold and even a decent and faint Rainbow…
With all this I tried to make up an ornamental "tile" shaped quick design, which still has a lot of intricacy to keep you occupied for a while 🙂
With a mere design size of 129 x 129 stitches this is a little project for in-between, or a gift for any lover or
all things "Irish".
This design has been a Christmas Gift to my stitcher in 2016 for a short period and is available for sale before and after this date only for a very small price then. So please do not treat it as a "Freebie" to share and hand on!
Materials List:Onl 191 – Irish Harp Mat List